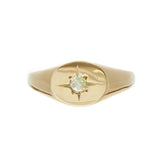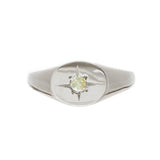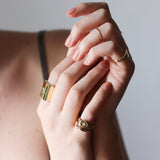 Nara Ring - Aquamarine (March)
The star. The Jennifer Lawrence of Rom Coms. The McDreamy of TV Show characters. The Francis Ford Coppola of film. The Jane Birkin of fashion icons. Nothing. Compares. To. This. Ring. Add a birthstone and you got something special.
March–Aquamarine: Cures diseases and protects from ocean dangers.
10k gold, Sterling Silver or Yellow Brass

2.5mm aquamarine

Starburst design

Available in: Garnet, Amethyst, Aquamarine, Diamond, Emerald, Pearl, Ruby, Peridot, Sapphire, Opal, Citrine, Tanzanite

Made to order, please allow 5-10 business days for production
---
Nara Ring - Aquamarine (March)